Recipe for Spanish meatballs from Delicatessen
Publisert: 6. September 2022
Spanish meatballs is a tapas classic that is much appreciated on the dinner table, and now you can impress family and friends with home made albóndigas. In this post, you will find recipes for Spanish meatballs à la Delicatessen – so that you can make these treats at home for both everyday dinners and parties!
Make Spanish meatballs at home
Nobody knows meatballs better than the Spanish. The secret behind their good, juicy meatballs lies in the tomato sauce that they are served with, which is made from scratch and cooked for a long time. Scroll down to find the recipe and method for the famous meatballs from Delicatessen Tapasbar!
In Spain, and at the Delicatessen restaurants, the Spanish meatballs go by the name albóndigas. Albóndigas is a tasty dish with just the right amount of spice, and is a favorite among both adults and children. The name albóndigas comes from the Arabic word al-bunduq (meaning hazelnut or a small round object), and the dish is believed to have originated as an Arab dish imported to Spain during the period of Muslim rule.
Discover tasty tapas dishes at Delicatessen
If you want to try other tasty tapas dishes, you can visit one of our restaurants at Majorstuen, Grünerløkka or Aker Brygge in Oslo. You can also visit Delicatessen Tapasbar in Fredrikstad, Bodø or Tromsø – all with a lovely location right by the sea side. The menus at the different restaurants are stuffed with dishes based on both Spanish and local produce, so you are guaranteed to find something to suit your taste. If you are vegetarian, you will of course also find a good selection of vegetarian tapas at Delicatessen.
Book a table, or come for drop in at one of our restaurants!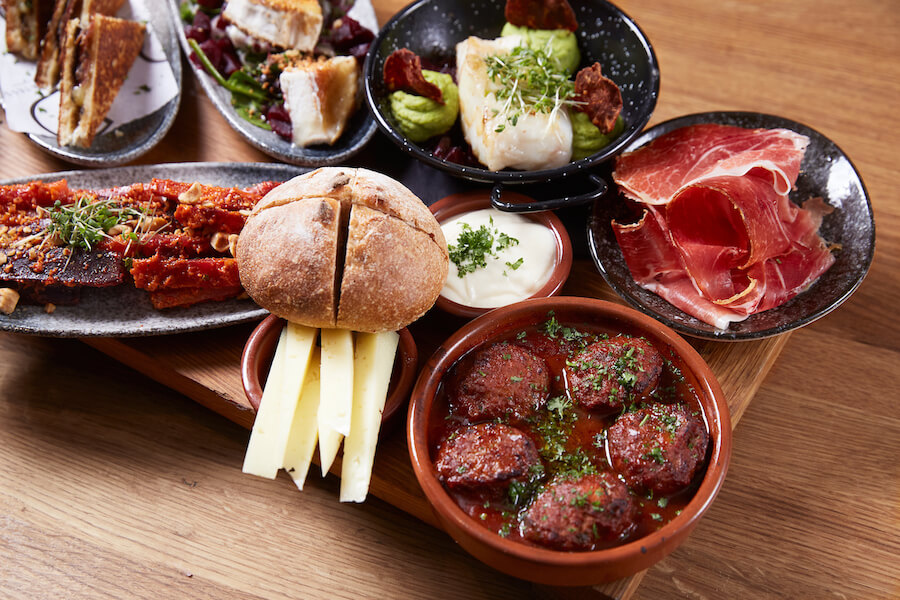 Recipe: Spanish meatballs

 
Ingredients, Spanish meatballs
4 portions
400 g ground beef
200 g pork mince
1 egg
4 pcs white bread slices
1 dl tomato juice
2 cloves of garlic
0.33 pcs of chili, red
0.5 pcs of carrot
0.5 pcs of onion
1 stick celery
1 tbsp paprika powder
1 tsp cumin
1 tsp curry
0.5 tsp turmeric
1 tsp salt
pepper, black
sunflower oil
How to make Spanish meatballs
Soak the bread slices in tomato juice. Finely chop the vegetables and mix with the other ingredients, by hand, to a firm mass. Form small balls with your hands and fry them in sunflower oil. Then marinate the meatballs in spicy tomato sauce for approx. 10 minutes together with finely chopped coriander.
Ingredients, tomato sauce for Spanish meatballs
2 cloves of garlic
0.33 pcs of red chili
0.5 pcs of carrot
0.5 pieces of onion
1 stick celery
1 tbsp paprika powder
1 tsp cumin
1 tsp curry
0.5 tsp turmeric
2 dl red wine
8 dl canned tomatoes
2 dl beef stock
coriander
salt and pepper
sugar
How to make tomato sauce for Spanish meatballs
Finely chop all the vegetables and fry them in sunflower oil for 5 minutes. Add the dry ingredients and red wine and cook until reduced by half. Add  beef stock,  the tomatoes,  salt,  pepper  and  a little  sugar. Simmer  for  40  minutes.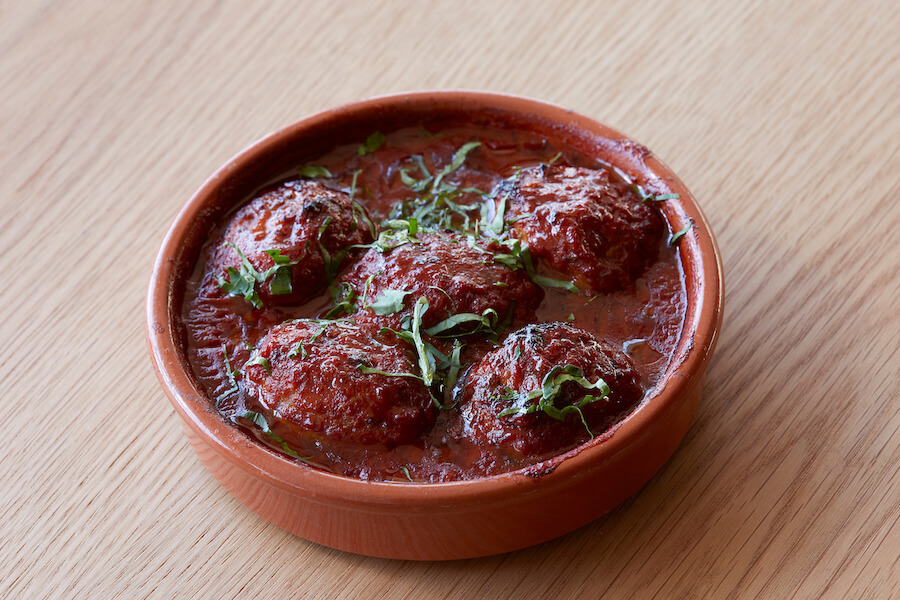 Du finner denne oppskriften på Aperitif – along with a lot of other inspiring recipes and tips!